I was walking through Sephora aisle just looking at all the makeup wishing I could get every single thing the store got to offer. Something in the corner caught my eye. Bybi beauty. The cute packaging got me reaching for it and decided to check it out. I'm not an expert on skincare and my skincare routine is rather pathetic. I decided to put it on my basket because compared to other skincare available in Sephora, this one didn't hurt my wallet as much. Plus I want to feel like a responsible adult caring about my skin.
I bought two of the facial oil. Strawberry booster and Bakuchiol booster. I didn't expect much from it. When I got home I decided to do some research on the brand and also trying to figure out what on earth is Bakuchiol. I bought this product with zero knowledge on how the product is gonna benefit me or anything about the company.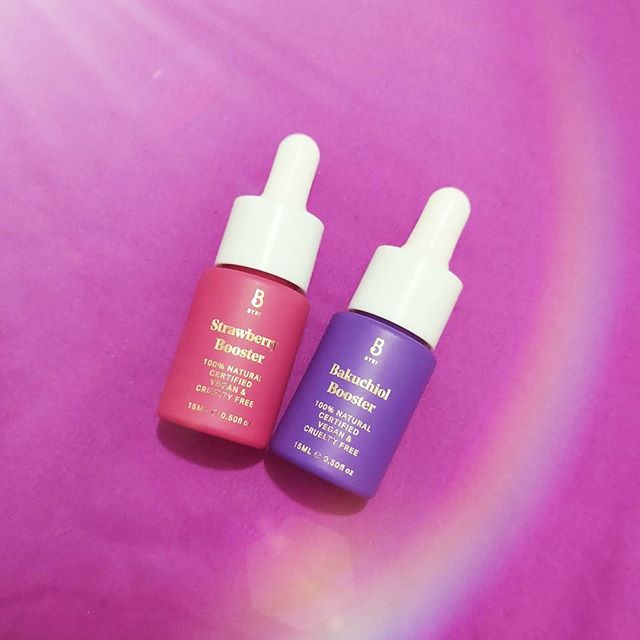 The Company
I went to their website and I get so excited reading about the company. I love a company that cares about the environment. I love supporting company that want to make positive impact on the world. Their ingredients are 100% natural, vegan and cruelty free. They don't do testing on animals and also they don't sell their products into countries that require animal testing.
Eco Friendly
They try to be as eco-friendly as possible. For example, they use sugarcane derived bioplastic tubes that is recyclable. They use glass bottle and also print on the glass rather than labels hence it's easier for you to recycle. I found out that the strawberry booster that I have is made from cold pressed seeds that are waste product from the juicing industry. How cool is that?! I am officially a big fan of this brand.
What on earth is Bakuchiol?
When I was looking for Bakuchiol, I kept coming across Retinol. Now I wonder what on earth is retinol. Oh yea my knowledge on skincare is close to zero. Apparently retinol is one of those premium ingredient you'll find in skincare as it is known to smooth out fine lines, wrinkles and also help to reduce acne scarring/spots. During my research I found out that some people can get skin irritation and sensitivity to the sun from it. Now, Bakuchiol here is like the natural alternative. Study shows that bakuchiol stimulate collagen production, strengthened the skin's foundation, and minimized the appearance of fine lines and wrinkles, without the risk of irritation. Smoother nicer looking skin?! Sign me up!
My Result
I've been using the two oil for over a month now and I can safely say I will definitely be stocking up more!! I am obsessed! I used to hate oil on my face because I'm naturally very very oily and greasy. I always get clogged pores and acne. However, for the past month of using this two oil, I notice the changes in my skin. I use the Bakuchiol booster at night and the strawberry booster during the day. The biggest different I saw was that my skin isn't as oily no more and I haven't had any acne! My skin is ridiculously smooth. I wanna touch my face all day but I know I can't. No really stop touching your face! Makeup application is way easier now. My T-zone isn't super oily anymore. I highly recommend this oil. You should totally check it out. You can get them at sephora website or on bybi website. I've linked them both so you can quickly get it now.
Let me know if you tried them I wanna know what you think. Follow me on all my socials (Twitter, Instagram). Until next time beauties.