Hi beauties! I am back again with another review. I know it took me awhile to post this up. I'm sorry! Juggling two jobs can be hectic. I decided to take the time today and write a review on Fenty Beauty. By now you guys probably know how amazing the products are. So I'll jump straight into my review.
I didn't want to order it online because I want to get it ASAP! I was too excited. I couldn't get it on the day it was released so I went the next day. I went to Sephora in Great World City as there's usually not much of a crowd there but even then there are ladies already crowding around Fenty Beauty display. I was a bit overwhelmed seeing all the 40 shades of foundation so I get one of the Sephora worker to help me colour match the foundation. He was very helpful! Didn't get his name but shout out to him for the excellent customer service.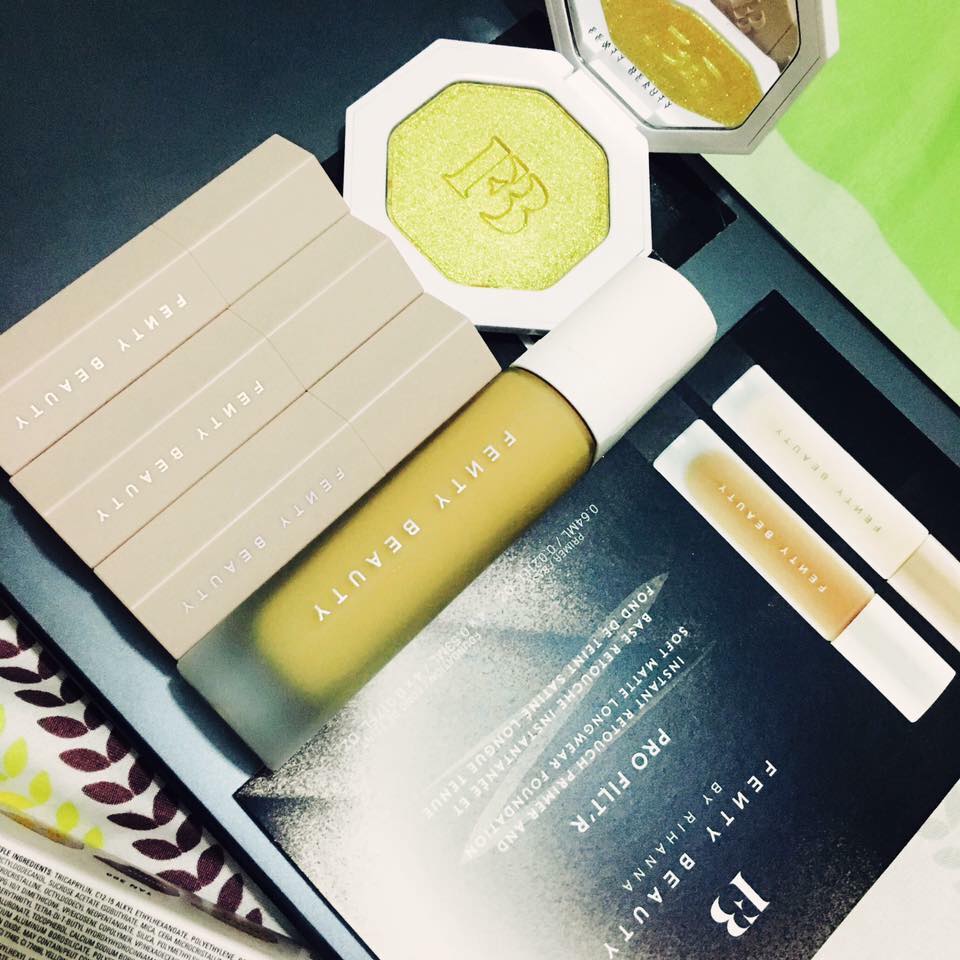 These are the stuff that I manage to get. Trust me that I will go back to Sephora for more! I bought the Pro Filt'r Soft Matte Foundation in the shade 310 (S$50), Killawatt Freestyle Highlighter in Trophy Wife (S$50) and also the Match Stix Trio in Tan 300 (S$79).
I have several problems with my skin. I have dark pigmentation around my mouth area, a little bit of dark eye ring situation and also acne scar. Usually I put primer and colour correct it. However, I wanted to test the foundation by itself and see how's the coverage and will it cover up the dark pigmentation well. Usually if I don't colour correct my skin, my overall base will appear ashy. Not cute. The consistency of the foundation is a little runny it is not thick. Application was easy and it is build-able. It doesn't appear cakey or thick on my skin. I absolutely love it. The older I get the more I hate it when makeup base it too thick and it is a problem for me because I have a lot to cover up so every time my base will end up being thick. So this foundation work very well on its own. It covers most of my pigmentation. I don't appear ashy but I will still colour correct my skin so that I can get that flawless finish.
Moving on to the Match Stix Trio. I got the one in Tan 300. You can get the individual Match Stix for S$37 but I figured I'll be saving money buying the Trio set for S$79. The Sephora worker actually helped me figure which shade I should get for contouring my face. The shade Truffle was a nice shade for me because my face is round everywhere and I need something a little dark to define it more. I got that chubby cheeks round face problem.  LOL! So I pick my Trio set based on that. I was skeptical because what if I only liked one of the Match Stix which is Truffle and dislike the other 2 which is Caramel and Rum. When I tried it….. Girl.. I am in love with all 3 of them. How Rihanna???? How do you even do this? This magic right here! I use the shade Caramel as concealer and Rum to highlight my inner corner and I am obsessed. I usually stay away from cream contouring because I hate how much effort I have to put in to blend it nicely but with the Match Stix, it melted like butter. It's like the product just do the job for you. I didn't have to try hard to blend it. I was beyond shocked. That's how you successfully put out a contour stick! #noshade
Last but not least, the star of the show that basically lift my whole look…. The Killawatt highlighter in Trophy Wife. You know I love to glow. I think from now on, this is my go to highlighter. The yellow tone complements my warm skin tone. It can be a bit much if you wear this during the day but hey I am daring enough to rock this blinding highlighter all day every day. If you like a more subtle highlight you can check out the killawatt highlighter duo.
My Verdict: I 100% approved of Fenty Beauty. I am obsessed. Take my money Riri because I will be coming back for more. I want to get more of the Match Stix and Invisimatte Blotting Powder. The best part about Fenty Beauty is that it is versatile. You can use the Match Stix to highlight, for eyeshadow, to contour or even use it as lipstick! I think I want to try putting Truffle on my lips that would be interesting.
Rihanna did a good job on her makeup line. She took 2 years working on this and when she finally drop it, everything was flawless. That's how you do it. You put in the hard work and know your product so you can put out something as good as this. People are spending their hard earn money. I see a lot of beauty gurus/celebs dropping makeup line or collab job but people aren't happy with the finish products because some of the work are rushed and all they care about is making $$$. I am pretty sure Rihanna is already making good money with her career as a singer so when she drop this makeup line she genuinely are doing it because she is passionate to put out products that will cater to every skin tone. I am so proud of her. What's next for Fenty Beauty? Eyeshadow perhaps?
That's my review and my final thoughts on Fenty Beauty. I can't wait to check out all the beautiful look you guys share on instagram and remember to tag #nygmarosebeauty if you want to get your work featured. I am supporting all artist. Follow me on instagram as I post more update there and you can watch my short tutorial using Fenty Beauty products. Stay beautiful and God bless you always.
Peace & Love,
Nygmarose