1.) Cover FX custom enhancer drops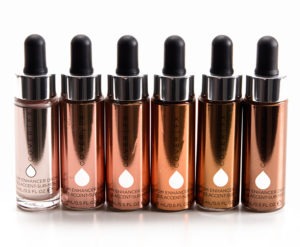 Yes yes yes by now you know highlight is EVERYTHING. We want to glow from head to toe. Makeup junkie everywhere are raving about this product. I personally haven't try it yet but since my Jeffree Star Skin Frost broke, maybe it's time for me to get a new highlighter for myself. It is a little pricey but a little goes a long way. I watched the review by Tati (GlamLifeGuru). I am impressed with this product. Share your thoughts on this product. Do you love it or not. It comes in the shades Moonlight, Candlelight, Celestial, Sunlight, Sunkiss and Sunset. You can get it from Sephora for $42.
2.) Silisponge
O M G guys. This product left me speechless. When I first saw it, I honestly thought it looked like chicken cutlet (i meant for the bra). Hudabeauty took it there when she actually took a bra inserts and cut it and used it for foundation application. I was cracking up like crazy. Some of the beauty trends these days. Molly Cosmetics are the one who came up with this idea. Interesting indeed. Apparently this product will help you from wasting product. As you know sponges usually soak up the product so you end up using more product. Silisponge is also easy to clean! Best of all, it's cheaper than your beauty blender! Watch Michael Finch review on the silisponge.
3.) L.A girl pro coverage HD foundation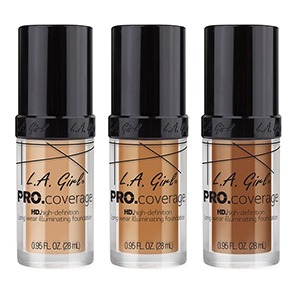 We all have come to love L.A girl concealer but now they come up with this foundation which has been getting very good reviews from the beauty community. If it is true then I say we have a winner. It cost $10 (if you're from the US). $10 for a foundation that is actually good? Ahhh.. What a dream. I haven't try this foundation yet but I just might since most of the beauty gurus who tried it seem to be loving the formula. For those of you in Singapore, don't worry. You can get this foundation here. Here is a review from LustreLux.
4.) Rainbow Highlighter
Ahh another highlighter but this time… It is rainbow. Yes! Ever wanna glow like a unicorn? Now you can. I first saw the rainbow highlighter on Instagram. Everyone was going crazy over this highlighter. The person behind this rainbow madness is Jenna and she own an Etsy store where she sold these highlighter. I'm not that bold to rock a rainbow hightlighter but Jeffree Star definitely can get away with it. So watch his review here on the highlighter.
5.) Modern Renaissance Palette by Anastasia Beverly Hills
This palette was inspired by the colours found in renaissance art. First look at the palette, it just look stunning. I am obsessed with the colours in the palette. It consist of 14 shades. 11 being matte and 3 shimmer. This palette gets a very positive review from most beauty junkie out there. ABH made this palette permanent. If you're looking for a good palette to splurge on, you should totally get this one. It's totally worth it and you can create a lot of different looks with this palette. Definitely one of the best releases in 2016. Watch Stephanie Nicole's review of the Modern Renaissance palette here.
6.) Glow Kits by Anastasia Beverly Hills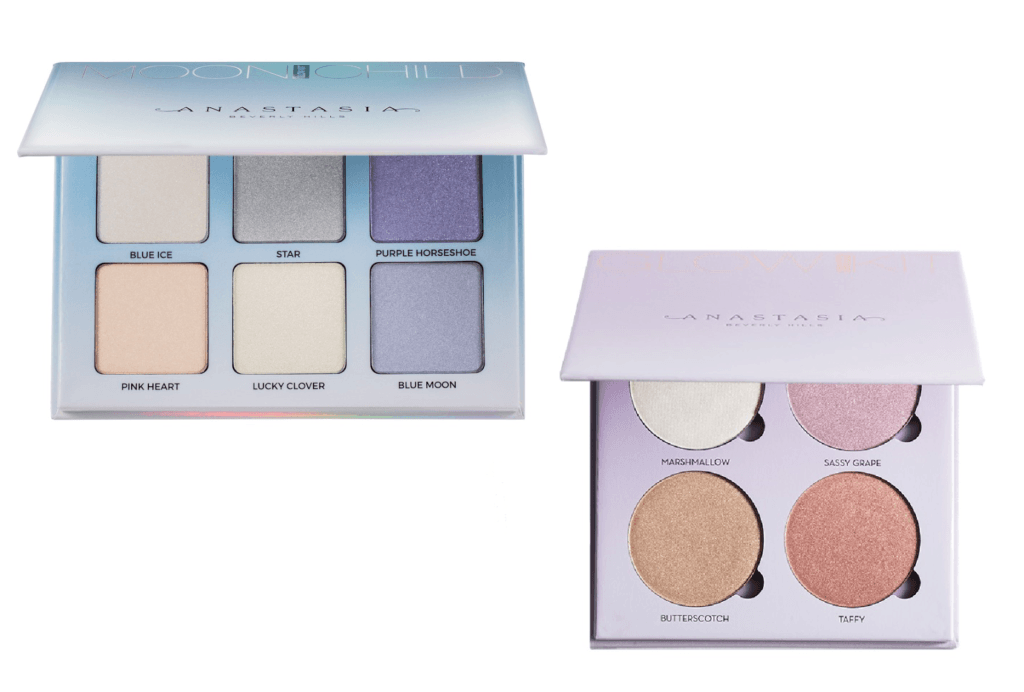 We just can't get enough do we? Glow your way to 2017!! When they announce on Instagram that they are coming up with two new glow kits, we all went bonkers. We all knew we gotta save up every single dollar we had. We NEED to get our hands on these glow kits. Anastasia Beverly Hills are known for delivering fantastic quality products. This is why we never think twice on splurging on their products. They definitely hit a home run with these glow kits. The two new glow kits are Sweets and Moon Child. Did you see the swatches? Oh.. My.. God. Hang on let me just take a moment to pick my jaw up off the floor. Stunning. Absolutely stunning. That's it. Go ahead and take my money. Watch Jasmine Hand's review of the glow kits here.
7.) Kylie Cosmetics – The Burgundy Palette
Oh Kylie. We can't end the list without including Kylie. She first release Kylie lip kit in 2015 and the internet went K-RAZY. It was a huge success and then come Kylie Cosmetics in 2016. She has been putting out a lot of other products beside her famous lip kit. The first eyeshadow palette that she put out was the Bronze palette. It gets mix reviews. Some love it, some don't. Not too long after for fall 2016 she release the burgundy palette. When I first saw the burgundy palette, I straight away fell in love with it. The colour in the palette look stunning! It cost $42 same as the Bronze palette and you get 9 shades. Everyone was obsessed with it. Kylie definitely step up her game and we can't wait for what's next.
That conclude some of my favourite releases for 2016. What is yours? Share your favourite in the comment. I would like to take this opportunity to wish you all a very happy new year. May 2017 bring us all goodness. May you all be blessed with lots of joy, good health and tonnes of free makeup. Lol! Go ahead and be be-you-tiful.
Lots of love,
Nygmarose.