1.) Glitter everywhere!
Seems like in 2016, we are obsessed with everything sparkling. Glitter is everywhere. Me on the other hand, I have a love/hate relationship with glitter. I mean I love the sparkling shiny effect but…. getting it everywhere is a whole other story. Have you ever had glitter get in your eye? Yes. Nightmare. Some of the glitter trends are glitter brows, glitter lips, glitter eyelid & glitter tears.
2.) Metallic Lipstick
I remember in the early 2000, metallic lipstick was huge. I used to have a pink metallic hello kitty lipstick. Ahh the memories.. Now it's making a come back. Out with matte in with metallic. Makeup brands like Kylie Cosmetics, Jeffree Star Cosmetics, Milani and others are coming up with a lot of metallic shades and it's amazing. What are some of your favorite Metallic shades?
3.) Contouring to the extreme (Body Parts)
Oh how wonderful life is with contouring.. Or else my face will be so flat…. and round. The only contouring I do is on my face. However there has been trend of extreme contouring where people actually contour their body parts! The most common one is contouring the chest to make it appear like you have bigger… uhm.. bosoms. I have also come across videos where people contour their tummy for illusion of abs, contouring their neck and leg to make it appear slimmer. What do you think of these extreme contouring?
4.) Gold flake eyeshadow
Maybe this is not a super big trend but I saw this when Emma Watson rock it on the red carpet. I also starting to see beauty gurus doing makeup look inspired by it. It's bold and I think it's more suitable for the runway, red carpet or perhaps night out in town? I feel like you could always get away with bold look in the night-time.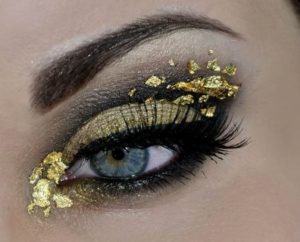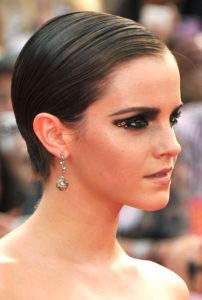 5.) Baking
Oh no we're not talking about muffin or cupcakes honey. We are baking that face. What????? No don't start getting idea of putting your face in the oven. Baking here basically mean putting setting powder and leave it to "bake" for 5 minutes(or more) and then dust it off. In the beginning I was kind of skeptical about it but as I tried it…. OMG. This baking stuff works. I realise it sets my concealer better and hide my eyebag like a magic! However be very careful to choose a setting powder that works or else you're gonna have white undereye which shows up in photos. I'm of the deeper skin tone and finding the right setting powder is important so I won't appear ashy. I'm currently using Sacha Buttercup setting powder. For people with deeper skin tone like mine I think this works best.
That's my top 5 trends in 2016. Did you love it or hate it? What do you think the next trend is gonna be in 2017? Share with us.